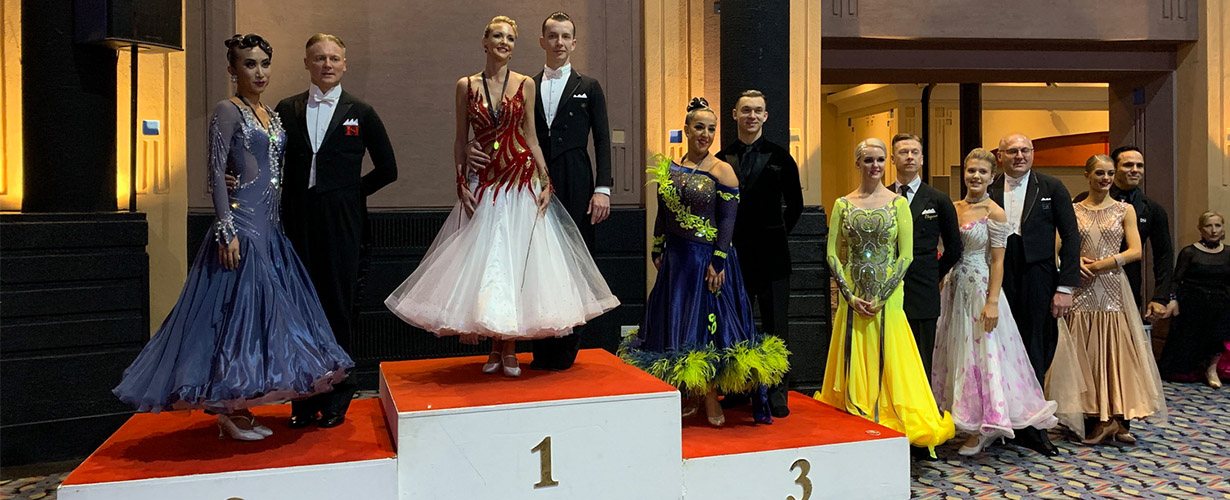 One more DANCING adventure in Blackpool, England
Our adventrure to the Blackpool Dance Festival 2019.
It's been almost a century now since Blackpool Dance Festival first welcomed the Ballroom and Latin-American dancers from all over the world. Blackpool, England, the Winter Garden to be precise, not so much time ago let our fantastic dancing team from Dubai enjoy life through dancing to the full for THE SECOND TIME already. Last year's dance festival simply wasn't enough to show all the grace as well as sharply honed dancing skills on an international level. The second May in a row takes the dearest "dancing" place in the competitive hearts of Dance For You team members.
Blackpool Dance Festival is well known among the highly competent dancers, whether they are professionals or amateurs, whether they are pretty experienced or unpretending beginners so far. All of them, at their own individual pace, strive for taking part in such a luxurious and posh DANCE celebration. The training path of a dancer might be either quick or rather long, it's all quite personal. However, when it comes to the event abundance throughout the way one might have complete confidence in enjoying it a lot, due to all the colors and emotions of the events per se!
Last year's Dance Festival in Winter Gardens impressed and granted Dance For You team with outstanding experience, brilliant achievements, unique trophies and awards and definitely never – to – be – forgotten – memories! That is why this year dancing couples from the UAE have been more than eager to go for it one more time! Almost right after the unforgettable dancing festival in Karlovy Vary three extremely dedicated and surely talented ladies, Ute, Rebecca and Kathryn, dared to keep conquering the international DANCE floor wherever it was. This time "Blackpool lands" have warmly welcomed BALLROOM DANCES AMATEURS creating an inviting atmosphere, favoring only the splendid results!
Under the highly professional supervision from Dance For You instructors our talented students have sharpened their dancing skills and embarked on a thrilling dancing journey to England. We've been completely aware of what to expect. Or we DID think so. Surprisingly, we've come across something we'll remember forever – the highest competitive spirit ever, taken place on a spacious ballroom floor. More than 60 PRO-AM dance couples from numerous countries around the globe represented almost every single dance category this time. Unbelievable, right?
Blackpool Dance Festival 2019 these days can be truly characterized as a high-profile, grand-scale and massive event in the world of dancing. Needless to say that three promising dancers from Dubai together with their highly professional dance instructor, Sergii Tymchenko, have made their UNIQUE mark on this event's history by their fabulous dancing outfit, remarkably polished dance shoes and surely brilliant dance routines bringing altogether the fantastic performances. The latter ones were noted and awarded as follows: (Ute Kuras 1st and 3rd place in Waltz and Tango Championship; Kathryn Povall 6th place in Ballroom Championship out of 64 couples; Rebecca Dibble top 20 couples put of 67 couple).
Sergii and Ute - Waltz @ Blackpool 2019.
Ute and Sergii perform Tango @ Blackpool 2019.
Rebecca and Sergii - English Waltz @ Blackpool 2019.
Rebecca and Sergii - Foxtrot @ Blackpool 2019.
Kathryn and Sergii - Tango @ Blackpool 2019.
Kathryn and Sergii - Rumba @ Blackpool 2019.
This trip's been quite an experience. Lots of efforts have been paid back, lots of dancing skills have been acknowledged, lots of conclusions have been made, lots of professional competence have been proved and lots of new aims have been set. We truly enjoyed these tremendous four days of such a widespread PRO-AM dance tournament. Dancing with Dance for You studio YOU CHOOSE a high quality of dance classes which lead to a high quality of dance performances, which lead to an exceptional opportunity to take part in magnificent and exclusive international dance competitions such as a Blackpool Dance Festival.