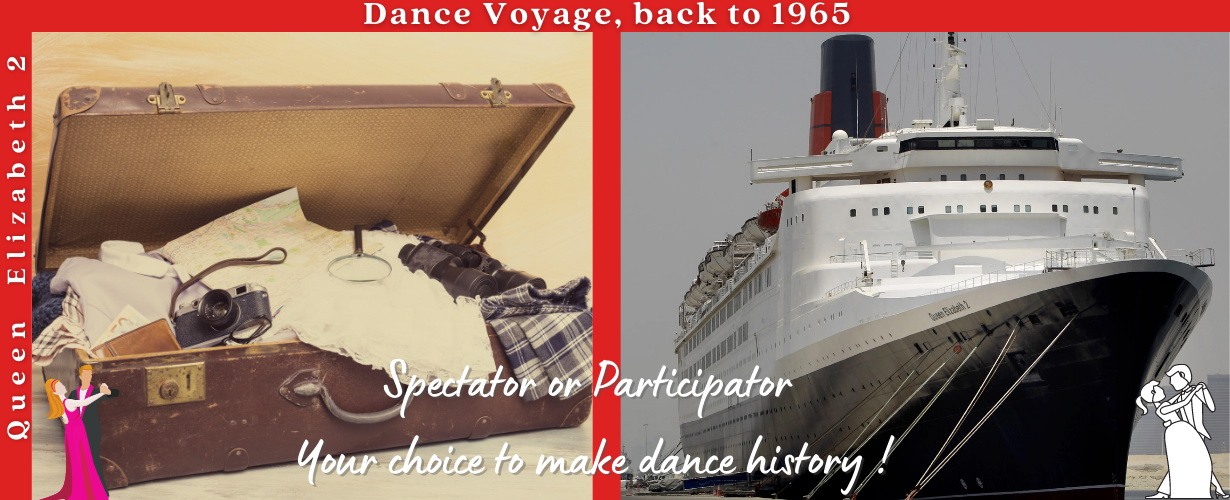 The suitcase is packed, the quill is ready…if not, we're there for you. Full Ahead towards adventures!
Enlivening the Legend…Yep, I'm the one of them, can't wait to be a part of such a unique history-making dance event, so exciting! Nope, never heard of it. What do you mean by the legend? And all the enlivening stuff, are you sure? If the first one sounds familiar to you then we are so grateful for the best decision of yours, go for it! If you find yourself wondering like the second one, then you are at the right place as well. Welcome aboard, Queen Elizabeth 2 is about to salute Dance For You family in the nearest time. There are still some inquiries left, we are happy to clear up "a dancing way" to an incredible adventure, catch the Spirit, you are gonna like it!
"Bon Voyage" is the name of a chapter a Legendary British Liner "Queen Elizabeth 2" warmly lets us "write" on its premises. Fabulous Dance Cruise 2023 is destined to add some more unique and outstanding skills to every attendee's collecting box. An ideal place such as Grand Lounge is a central core of bringing talents to light. Why would anyone want to miss that?!
Nowadays no one has ever thought to be a part of history in making. Apparently modern age has its own views on that where the upcoming, heritage-admiring Ballroom event of ours seems to be unforgettable experience for amateurs and professionals, for spectators and participators, but most notably for a Special guest. "What might be so special about them?" – One may wonder. He is almost like one of us, except for the fact that a crew member of QE2 in the past, these days, is a happy holder of numerous one-of-a-kind real-life stories of both: jaw-dropping adventures of British masterpiece, Queen Elizabeth 2 and extravaganza of receptions, parties and evenings Ladies and Gentlemen used to enjoy back in the days! Isn't it striking already?
And what about special dinner…at a majestic place where the above mentioned extraordinarily fancy parties would take place. It's our chance to enjoy Grand Dinner among kindred spirits, soul mates of dancing, whose daily routine is built-in within such a healthy, mentally and physically, hobby as dancing in all of its aspects.
Besides, Ballroom dancing always used to be, is and will be essential. Based on the extensiveness of Grand Lounge, a fantastic space where our storytelling is to take place, we guess the passengers of Queen Elizabeth 2 simply couldn't live without it. As a matter of fact modern successful people as well, people who entrust their pastime choice to Dance For You studio, a professional dance studio in Dubai. In this case we have nothing left to say but "Ladies and Gentlemen, it's high time you started packing your suitcases". We feel the ballroom gowns, evening dresses and tuxedos can't wait to have their blast at the most enjoyable Winter Gala 2023. A party where elegant garments are expected to be highlighted with as much as elegant ballroom dance routines!
And by the way, since Dance For You team and our gifted students are going to "have time of their lives" enjoying the Professional Showcases, we would like to kindly remind you that our dancing studio will resume dance classes on Sunday, the 29th of January! Two days of captivating journey will provide us with ocean of energy, a steam of ideas and a fountain of "How to bring that to life" highlights. We can't wait to keep "discovering" dancing world with you but can you?!
All in all we are fully ready and completely prepared to have a night to remember, a story to retell, emotions to experience and enjoy lives at the historic and most exclusive location, Queen Elizabeth 2. The question is – "Are you?!". You don't want to deprive yourself of a premium gift to be the author of a splendid dancing story "Bon Voyage" alongside a professional team of Dance For You! QE2 is calling, Can you hear it?!:)