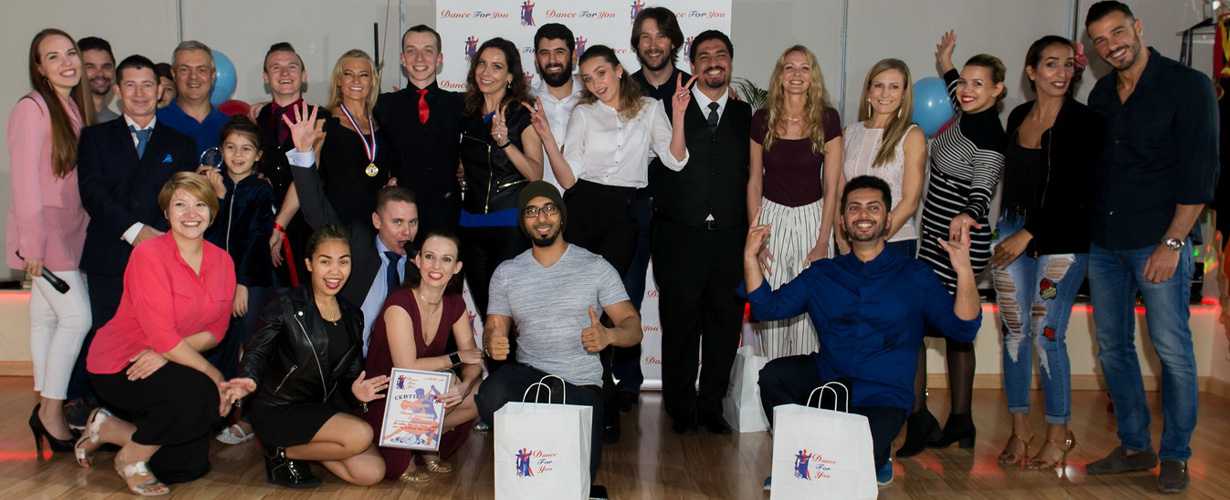 Gala Evening 2020: Start of the Year with Dance For You
Starting a new dancing season at Dance Gala Evening Weekend, January 2020, in Dance For You studio, Dubai.
The first fresh month of a much promising year 2020 has started in a pretty challenging but surely thrilling way for the dearest students of enormous and international Dance For You dancing community. They were supposed to celebrate New Year's resolutions with Dance For You team twice or even thrice within a short three-day-time limit. Certainly they made it. Dancing all night long at two different but absolutely welcoming dance places, enjoying it and having energy for one more exciting party – that is what sets OUR students apart from the rest dancing amateurs throughout the world. Let's have a closer look at the way it went at the outgoing weekend of January 2020!
As people worldwide have their dreams to pursue alongside high expectations for the current events as the professional team of Dance For You studio has an idea of throwing unique, non-repeating dance parties which stay in our students' hearts for long. What we mean to say is that this very year we started with a GALA EVENING which comprised ONLY marvelous dance showcases from our gifted dance amateurs in cooperation with professional dance coaches within the welcoming, convenient and surely all-favourite dancing studio in Dubai. Ten magnificent showcases in a row. No one noticed how the time flew but everyone gained sight of how gracefully, stylishly and attractively the dancers performed and most notably enjoyed ever little and peculiar detail of their own "dancing masterpiece". No breaks, no master classes this time but driving motivation and exquisite incentive for all the guests and simply spectators which highlighted "Dancing is available to everyone, especially in such a great place as Dance For You studio"!
If you're new to our website or studio, then a few dance educational programs and classes that we offer are below (complete list is here):
The next fantastic place we headed to altogether straight after the incredible dance performances is Fogueira Restaurant & Lounge in the heart of JBR. The restaurant is a luxurious place itself. However with our attendance it obtained even more colorful, more vivid and tremendous vibes that night. Being on a dance floor alongside a dance coach is one thing while having fun and outings together in a posh restaurant is another story. That is what unites us into one-of-a-kind successful dancing community of Dubai, the UAE. The community which explores Dubai's terrific places and travels around the globe together based on the mutual love for DANCE!
The third party of ours took place on Monday which luckily happens to be a regular dance session to live music. Monthly Claudia plays energizing tunes for our students to enjoy dancing even more whereas this time it was a perfect DANCE conclusion to a commemoration of three-party-New-Year's resolutions! A new format of GALA parties was highly welcomed by our students proving Dance For You team is on the right track!
Gala Evening 2020 Movie.
Slow Waltz by Sergii and Kathryn.
Sergii and Kathryn.
Sergii and Elena.
Oleh and Nika.
Oleh and Mahra.
Oleh and Gemma.
Alexa and Parik.
Alexa and Leslie.
Kathryn and Jean Lous.
One may wonder WHY? Why are there so many new shticks from Dance For You?! The answer is as simple as that – we are about to make a special dancing movie! The movie that will depict the process of the formation and respectively the development of our studio. The history where our dearest students of various nationalities from different corners of the world represent the soul and the driving force of Dance For You studio. The foundation stone is already there… the talented students of ours as well as the remarkable dance events are also a part of that. We believe now it's your turn to become a part of this fantastic "dancing" history. Dance classes with us are the best start. You don't wanna miss it!
Other articles you may like: