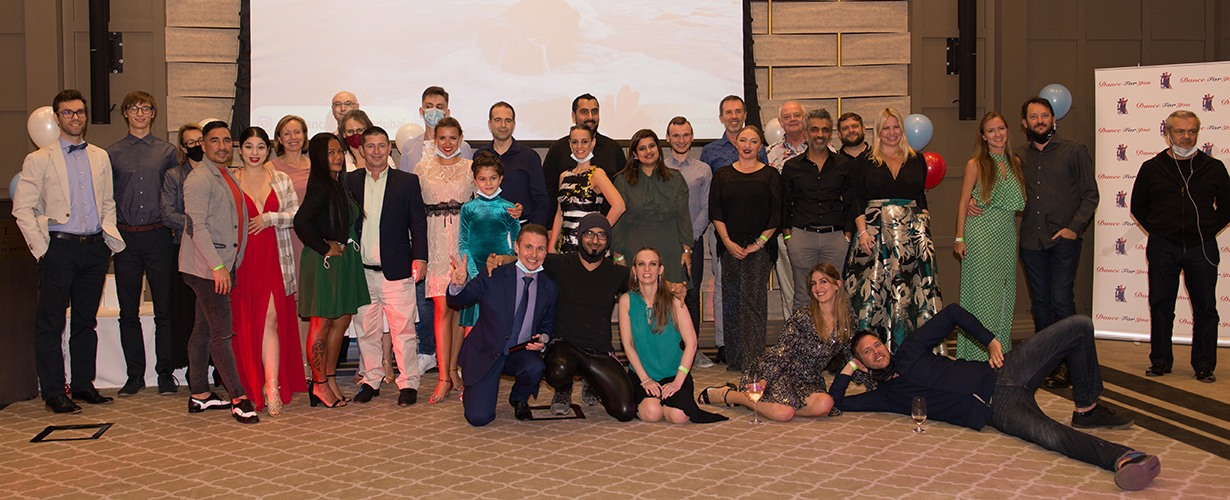 Gala 2021. Come true and stay with YOU… fabulous
Turning the page of the next Life Chapter together with Dance For You family seemed so far away back in a pretty tiring December 2020… However, these days, when the calendar literally calls January 2021, so warm and very promising, we are all so happy and excited to claim that we finally made it, embarking upon the much expected and surely amazing new year of the life pathways of the millions in the most tremendous way… dancing of course.
The past year has taught us a lot, to take care of ourselves, to cherish the moments with the dearest-to-our-hearts-people even more. Due to the reasonable circumstances we spent a year with no entertainment on the one hand but with given precious time for the self-understanding, for the self-development on the other. Future is inevitable but present is worth being enjoyed. Taking it into consideration Dance For You team dared to celebrate the remarkable start of this year with its dearest students and guests at the outstanding scene and energizing dance floor of Dukes, the Palm, a Royal Hideaway Hotel. Being dancing studio number one in the UAE we not only quite professionally organized everyone's leisure time but also assisted every single guest in taking all the precautionary measures. Safety first. Dancing is behind. As a result… what an incredible match?!
Seventeen dazzling dance show cases have been performed by our gifted students, such a delight to the eye, such a reward to the bones, such a treat to the heart. Our professional dance coaches set up the tone but our talented students would catch it up, "spice" it a bit and carry throughout a magnificent Friday night. Tango, Rumba, Slow Waltz, Bachata, to every liking, to every type of the mood, to every single guest Dukes, the Palm Hotel will bring lots of joyful and incomparable "dancing" moments to remember! Most especially to the last four couples where all eight dancers turned out to be our students! What is more rewarding to a teacher when their students make it on their own?! Besides, in such a skillfully great way. Four outstanding show cases are proof that the dance classes in our dancing school are easy, enjoyable and beneficial for a single and for a couple, bringing hearts and bodies together to the charming tunes.
True, no social dancing this time but the first Glittering Gala of the year, alongside the fabulous dancing performances, was full of unexpected surprises, where one of them for example was both: memorable and tangible with the prize fund over 5000 AED. Quiz about the dancing world granted our valuable students with toy money which in its turn was exchanged for some healthy and beneficial gifts afterwards. Was it a dancing night you may wonder… of course it was…it's always about dancing…tunes, steps, outfits, dance routines directly led to the Audience Choice Award which was given to a splendid show case from Tanya and Kurt, Social Rumba was impressing indeed. And what about the youngest generation of dancers. Apparently, they rock!
Ballroom Dance Showcase Pro-Am.
Argentinian Tango.
Cha-Cha-Cha.
Energetic Dance Showcase.
Passionate, talented, energized, hungry for new challenges in such a wonderful world of dancing! Dance For You team from Dubai is so happy and proud to plant and spread these nice "seeds" internationally because dancing has no boundaries, has no limits, no gender, no nationality. We are so happy to have Nika as the youngest member of our numerous dancing community, Atta girl! And surely all the amateurs…Thank you, guys, for the amazing weekend at Dukes, the Palm, for the aspiring dancing show cases, for the unforgettable atmosphere over such an incredible dinner, delicious by the way!
Deep in our hearts we, Dance For You team, feel so lucky that you guys have entrusted your dancing dreams to us. It's such a pleasure to make them come true! The year has just begun, lots of adventures are ahead, shall we colour them with dancing?!